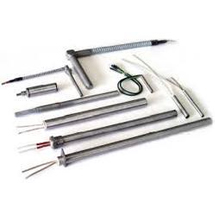 High Watt Density Cartridge Heaters are most advanced technology and quality raw materials, enables usage with high density in small spaces and advanced manufacturing process ensures our heaters are vibration proof and thus ensures excellent reliability in heavy duty working conditions (Like Plastic Processing, Printing, Packaging and automobile industries where the heaters are subjected to heavy vibrations). The high performance is achieved by correct installation of the cartridge heaters. The perfect fitness of the heater in the hole facilities good heat exchange between the surfaces of heater and mass to be heated thus increases the heater life and reduces energy loss.
| | |
| --- | --- |
| Applications | |
| Plastic Processing Machineries | Shoe Machinery |
| Injection Moulding Machine | Packaging Equipment |
| Blow Moulding Machine | Moulds & Dies |
| Plastic Extruder & Extrusion Dies | Rubber Industry |
| Hot Runner Moulds | Chemical Industry |
| Hot Stamping | Heating Liquids |
| Food Processing | Power Plants |
| Medical Equipment | Automobile Industries and many more applications. |
Wherever there is a requirement of high watts in less space.
Advantages
| | |
| --- | --- |
| 1. | High watt density cartridge heaters make it possible to have high watts in less space without sacrificing lifetime. |
| 2. | Proof against shock and vibration. |
| 3. | Excellent heat transfer. |
| 4. | Maximum operating temperature 1400°F (750°C) on heater surface. |
| 5. | Our heaters are cylindrically ground to have better surface contact and minimum hole tolerance. |
| 6. | Leak proof TIG welded end cap prevents heater contamination due to the entry of any foreign materials. |